3D-Draw
Rotate anything drawn in 2D to 3D

Calculator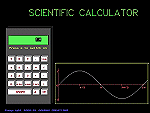 This program has a 3-D interface in DOS .It can even draw graphs for simple trigonometric functions.
Ikonz v1.0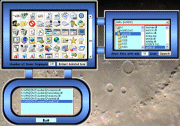 This unique utility will let you extract hidden icons from dll, exe and ocx files
Jackpot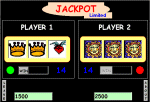 This game in VB has 3 types of Jackpot games just for you.
Internet Usage Monitor v7.7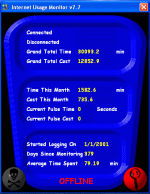 Internet Usage Monitors v7.7 works only with connection through modems however the future versions will support connections through network also.
This utility is designed to calculate the cost as well as the time you spend on the Internet.

Rapid Jeva v2.0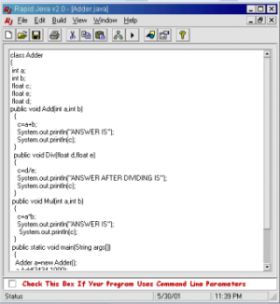 A useful tool for all Java programmers. It eliminates the need to write commands for compiling or running JAVA[TM] programs.
It acts as an interface between DOS and WINDOWS thus the programmer does not have to switch between the operating systems at all
This tool lets the programmer compile and run the program at a single click of the mouse. Programs involving command line arguments are also supported. Apart from normal programs the programmers can even create and run applets in the applet viewer as well as the internet explorer

Salient Features

1 )No need to write commands for compiling, running i.e. java , javac etc.
2 )No need to switch between different applications or operating systems .

JAVA [TM] is a registered trademark of Sun Microsystems
Digital Diary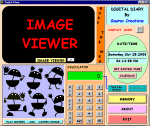 It has more functions than you can imagine. Database handler, Image Viewer, Calculator, Phone Dialer, Web Browser, Movie Player......